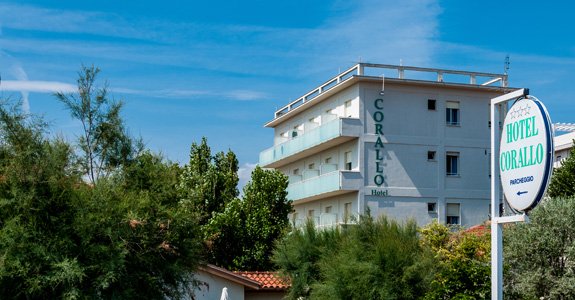 Hotel Corallo is situated in a beautiful location overlooking the sea and close to the historical center of Senigallia. The hotel is managed by the family Rimini, is the right choice for a peaceful and relaxing.

Already on arrival, guests are greeted by the hospitality of the Hotel Coral and availability of family senigalliese that manages it, in order to satisfy their needs 24 hours 24.

The rooms are equipped with all amenities and is offered to customers an excellent service in a private beach.

Special attention is given to the children to play, have at their disposal ample space inside the hotel of Senigallia and the seaside resort.

The family Rimini directly following the restaurant of the Hotel Corallo.

The hotel offers free wi-fi internet.

Hotel Corallo Senigallia offers to the customers the service of free bikes and promotes sightseeing with professional guides for those who want to enjoy the beautiful old town of Senigallia. But the tours do not end there: in fact the hotel Corallo is the starting point to the historical sites, natural and cultural delle Marche, as the Frasassi, Loreto, Corinaldo, Urbino, Jesi and many others.